Our Facility
Malvern Self Storage is located in the heart of Malvern, 0.5 miles away from Malvern's Retail Park and supermarket. It is the only purpose-built self-storage facility in our area. Providing secure, modern self-storage units for your personal, commercial and trade requirements. Our rooms range from 20sq ft to 175sq ft and are all individually alarmed for maximum security. Our building has been designed to contain 18,000 sqft of storage space incorporating a welcoming reception area with tea and coffee available.
Once you have secured a room rental you will be allocated a custom access code will allow you to access to our facility and disarm your room only.
There is allocated onsite parking available adjacent to the self store entrance. We have a zero-tolerance no smoking policy on-site, there is a designated smoking area outside the main gate.
Digital CCTV cameras monitor all access points, emergency exits and areas outside our store, 24 hours a day to help keep your storage unit safe and secure.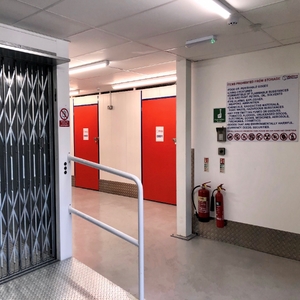 When designing and building our store originally in 2003 we made sure it had the correct fire prevention procedures and did the same when building our self-storage facility in 2019, under the same roof. Our storage facility is fitted with fire and smoke detectors, which will alert staff as necessary, in the event of any security alert, the appropriate emergency services are automatically notified immediately and dispatched to the scene.
To keep our storage facility and your belongings safe, we strictly prohibit the storing of any combustible, flammable or explosive items such as paint, oil, cleaning solvents, gas cylinders, fireworks and tyres. A full list can be found here. Our staff are on-site six days a week during our open hours and as well as monitoring CCTV systems, conduct daily walk rounds across all storage floors to ensure no activity is taking place, or equipment is being used, which could potentially result in a fire. We also insist that all our customers have liability cover. Please click here to view cover offered.